Dec 22, 2017
27,725
22,201
113
ABW Bucks
ABW Bucks

$4,671,378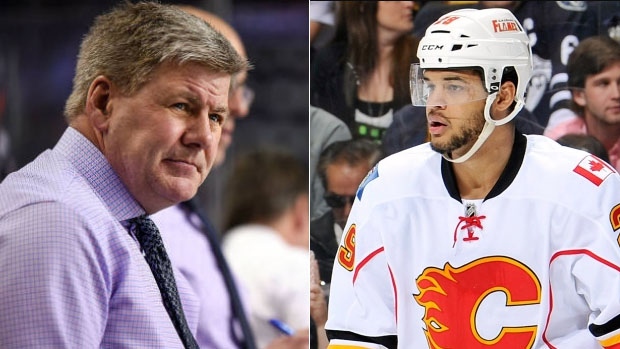 Former NHLer believes incident during the 2009-10 season with current Flames head coach ruined his career before it started, Frank Seravalli writes.
www.tsn.ca
Former NHLer believes incident during the 2009-10 season with current Flames head coach ruined his career before it started

Former NHL player Akim Aliu said on Monday that current Calgary Flames coach Bill Peters repeatedly hurled racial epithets in his presence in a minor league locker room a decade ago.

Speaking publicly for the first time since he made the allegation on Twitter, the Nigerian-born Aliu said Peters made the remarks in the AHL's Rockford Ice Hogs dressing room before a morning skate during the 2009-10 season while the 20-year-old Aliu controlled the team's music.

"He walked in before a morning pre-game skate and said 'Hey Akim, I'm sick of you playing that n----- s---,' " Aliu told TSN, with Peters, who was then the Ice Hogs head coach, referring to Aliu's selection of hip-hop music. "He said 'I'm sick of hearing this n-----s f------ other n-----s in the ass stuff.'

"He then walked out like nothing ever happened. You could hear a pin drop in the room, everything went dead silent. I just sat down in my stall, didn't say a word."

Two of Aliu's Rockford teammates who were in the room at the time of the alleged incident, Simon Pepin and Peter MacArthur, independently corroborated Aliu's account to TSN on Tuesday.

"I think everyone should be held accountable for their actions or words spoken," Pepin said.

Aliu said Rockford team captain Jake Dowell later confronted Peters about the incident in the coach's office. Dowell declined to comment, but said he would cooperate in any investigation conducted by the NHL or the Flames.

When Peters then called Aliu into his office to talk about it, Aliu said Peters did not apologize. Instead, Peters again expressed his displeasure in Aliu's choice of music for the dressing room, with Aliu saying Peters said: "You know, I'm just sick of this n----- s---. It's every day. From now on, we need to play different music."

The Calgary Flames said Monday night that the team was aware of Aliu's tweet. When presented by TSN with the full scope of Aliu's allegations, GM Brad Treliving declined further comment, saying the organization was conducting "a full investigation" on the matter.

Peters was not made available to the media after Monday night's game against the Pittsburgh Penguins. He also wasn't on the ice for the team's practice in Buffalo on Tuesday.

"Bill has not been relieved of his duties. We are continuing this ongoing investigation right now," Treliving told reporters in Buffalo. "The serious nature of this is not lost on us, we take it with extreme seriousness."

The NHL also acknowledged that the league is aware of the matter.

"The behavior that has been alleged is repugnant and unacceptable," the NHL said in a statement. "We will have no further comment until we have had an opportunity to look into the matter more thoroughly."

Aliu, now 30, was born in Nigeria, raised in Ukraine and moved to Canada at the age of seven. The Blackhawks' second-round pick (56th overall) from 2007 now lives in the Greater Toronto Area and is currently a free agent after spending part of last season with the ECHL's Orlando Solar Bears.

When asked why he waited nearly 10 years to step forward, Aliu pointed to former San Francisco 49ers quarterback Colin Kaepernick as a reason to stay quiet.

"This isn't me being bitter. I sat on this a really, really long time. It broke my heart, I think it made my career go downhill before it started," Aliu said. "This isn't to the degree of Kaepernick by any means, but if you play the race card, it's most likely the end of your career."

Aliu said he did not confront Peters at the time of the incident, nor in the private meeting that followed in Peters' office.

"What am I going to say? I was 20 years old and a first-year pro. I was too scared to speak up," Aliu said. "I beat myself up every day over it."

Aliu said he believes that incident with Peters "ruined my career before it started." Aliu already began his career with the public reputation of being a difficult player, stemming from his refusal to participate in a hazing ritual with the OHL's Windsor Spitfires that would have forced him and other rookies to stand naked in a bus washroom.
All this time later, Aliu says he decided to speak out to hold Peters accountable.

"It's tough to sit here while he just keeps climbing the ranks. After that incident, I got zero opportunity," Aliu said. "I've made peace with it. I hope he's honest and admits what happened."

The Aliu story triggered tweets from former Carolina Hurricanes defenceman Michal Jordan, alleging abusive behaviour by Peters when he was coach of the Hurricanes.

"Never wish anything bad to the person but you get what you deserve Bill," Jordan tweeted Tuesday afternoon. "After years making it to the NHL (I) had experience with the worst coach ever by far. Kicking me and punching other player to the head during the game... then pretending like nothing happened...couldnt believe my eyes what can happen in the best league.. happy that i dont have to go thrue that stuff on daily basis anymore."

Jordan told TSN in a phone interview, "He kicked me pretty hard in the back during a game. Even the trainers and the other guys saw it.

"I was at that point in my career, like I just got there, so I couldn't say anything. I didn't want them to think I was crying. Me and my agent, we kept it secret. Now other guys are speaking out, so I felt like I could."