The Voyeurs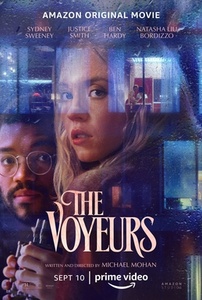 Mind your own business!!
PRAISE: In this story about innocent curiosity turning into full-blown obsession when a young Montreal couple spy on their eccentric neighbors across the street.
I thought the cast including : Sydney Sweeney,Justice Smith,Ben Hardy and Natasha Liu Bordizzo was fun and enthusiastic and I said it's going to be fun to see what kind of trouble this nosy couple is going to get into. The dwelling looks like David looking at Bathsheba added a great sexy element and the flick is beautifully shot. I did laugh at the fates of a couple of the characters and a visual at the end was pretty funny...in fact I'm still laughing as I write this.Oh and how could I forget the great nude scenes.
PROBLEMS: I stopped caring when a character who should have shown more care or remorse ...well they did for about 2 seconds but went right back to being oblivious and I didn't care what happened to the character. The film attempted to evolve into a twisty thriller but the set up was laughable instead of being involving and they tried to do all of this in about 20 minutes!!
Scale of 1 to 10 a 4½