Unverified Legion of Trill member
Apr 4, 2017
18,470
6,876
113
119
ABW Bucks
ABW Bucks

$2,074,844
The Dominican Republic has announced it has severed ties with Taiwan and switched its allegiance to China, reducing the number of countries with formal relations with the government in Taipei to fewer than 20.
In a hastily arranged ceremony, Chinese Foreign Minister Wang Yi and his counterpart from the Caribbean country signed an agreement after the Dominican Republic moved to formally cut ties with the government in Tapei.
"Establishing diplomatic ties with China means unprecedented huge potential opportunities for the Dominican Republic's development," Wang said.
China refuses to maintain diplomatic relations with any country that recognizes Taiwan, a self-governed and democratic island off China's southeastern coast that
Beijing considers an integral part
of its territory.
Taipei reacted angrily to the news, which left the island with 19 diplomatic allies around the world -- mostly small and poor countries in the Pacific and the Caribbean, with the Dominican Republic being the largest before the latest development.
privacy policy.
"The Dominican Republic has ignored our long-term partnership, the wishes of the people of the Dominican Republic and the years of development assistance provided by Taiwan to accept false promises of investment and aid by China," Taiwan's Foreign Minister Joseph Wu told reporters.
Beijing and Taipei have a long history of rivalry in their efforts to gain economic opportunities and diplomatic support from governments around the world. With China's rapidly rising economic and political might, however, the race is increasingly tilting in China's favor.
Last year, in another major blow to Taiwan, Panama switched
diplomatic recognition from Taipei to Beijing.
There also have been strong indications
that the Vatican
-- Taiwan's most symbolically important remaining ally -- may follow suit in the near future.
China's Foreign Minister Wang Yi, right, speaks after a signing ceremony with Dominican Republic Foreign Minister Miguel Vargas, left, after they formally established relations.
Long-running rivalry
China and Taiwan -- officially the People's Republic of China and the Republic of China, respectively -- separated in 1949 following the Communist victory on the mainland after a civil war.
The two sides have been governed separately since, though a shared cultural and linguistic heritage mostly endures -- with Mandarin spoken as the official language in both places.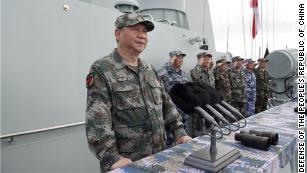 Xi Jinping's China shows off force in South China Sea
Although both Beijing and Taipei view the island as part of China, neither government recognizes the legitimacy of the opposing side.
There is a strong pro-independence sentiment within Taiwan's current ruling party led by President Tsai Ing-wen, prompting Beijing to harden its stance and stress its long-standing pledge to retake the island by force if necessary.
Chinese President Xi Jinping, the country's most powerful leader in decades who recently vowed safeguard "every inch of our great motherland's territory," ordered ramped-up military exercises around the island last month.
These included live-fire drills, sailing China's only aircraft carrier through the Taiwan Strait, and dispatching its
fighters and bombers for "encirclement patrols."
Analysts see Beijing's warnings not just directed at Tsai's government in Taipei but also at the United States, which has grown closer to Taiwan under President Donald Trump.
Washington has close unofficial ties with Taiwan and provides the island with arms under the Taiwan Relations Act, but the US has formal diplomatic relations only with Beijing.
'Wishful thinking'


With option to rule for life, China's Xi sets sights on Taiwan
In the past few months, the Trump administration angered Beijing by authorizing US manufacturers to sell submarine technology to Taiwan, as well as enacting the Taiwan Travel Act to encourage official visits
between the US and the island.
While Tsai has expressed confidence in the Taiwanese military's capability to defend the island, she appeared to extend an olive branch to Beijing on Friday in light of the historic summit between the leaders of North and South Korea -- another divided region in Asia.
Tsai said that she would be willing to hold talks with Xi if such a meeting could take place "on an equal footing and without any political precondition" -- an idea already scoffed by China's state media as "wishful thinking."
"On the one hand, she has been stepping up efforts to make Taiwan 'less Chinese' and carrying out a policy of 'saying no to China while fawning all over the US and Japan'; and on the other hand, she now demands respect for Taiwan from the mainland and wants to talk 'without any political precondition,'" said an online commentary of the People's Daily, the ruling Chinese Communist Party's mouthpiece.
"Does Ms. Tsai think everyone else is a fool?"